A Missouri district success
For this feature on Fort Zumwalt School District's efforts to implement explicit, research-based phonics instruction, we turned to Stephanie Sanker, curriculum coordinator for elementary English language arts, and second grade teachers Amanda Fowler and Marcia Biermann, to hear about their challenges and successes.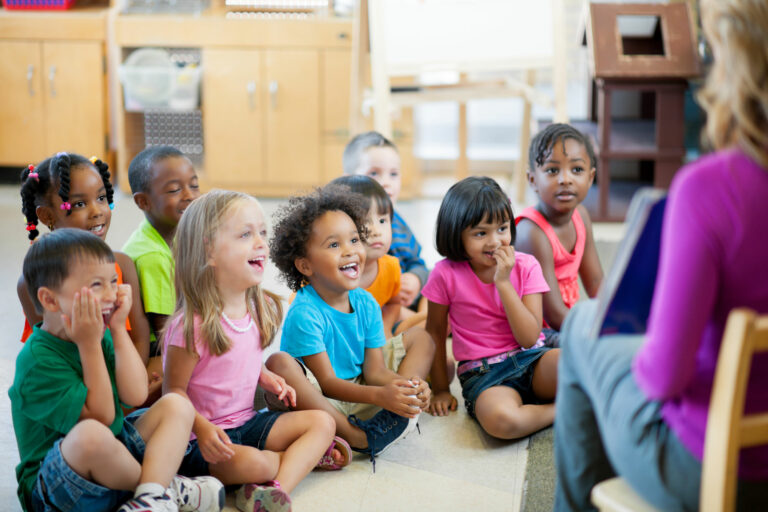 In 2020, the Missouri Department of Elementary and Secondary Education (DESE) committed to supporting evidence-based literacy instruction, focused on the science of reading through their Missouri Read, Lead, Exceed initiative, an initiative providing a framework for action to align state, district, and local literacy efforts and ensure that students develop the strong literacy skills they need for the future.
Past literacy methods have promoted a philosophy of reading that minimized or omitted direct, systematic, and sequential teaching of language structure. Phonics instruction, which focuses on the relationship between individual letters and sounds, was de-emphasized in the past based on the belief that students would naturally learn to read by recognizing words as whole pieces. As understanding of the science of reading evolves, so must practice. Based on Missouri's student performance data, educators cannot afford to occupy the middle ground. More must be done to ensure literacy growth for all students. When all stakeholders commit to using the science of reading to guide the work, Missouri's students will be provided the instruction needed to reach reading proficiency targets.
Missouri State Literacy Plan
---
Steps to Success: Step 1
For this feature on Fort Zumwalt School District's efforts to implement explicit, research-based phonics instruction, we turned to Stephanie Sanker, curriculum coordinator for elementary English language arts, and second grade teachers Amanda Fowler and Marcia Biermann, to hear about their challenges and successes after their first year of implementing solutions from the One95 Literacy Ecosystem.
Student Sample Snapshot
Fort Zumwalt School District
Location: O'Fallon, Missouri
Schools in District: 16 elementary schools
Grades: Kindergarten to Second Grade
Size: 3,257 students
75% White
23% Low Income
9% English Language Learners
12% Special Education
One95 Literacy Ecosystem: Products used
Beginning in fall 2021, teachers and students in grades K–3 started using 95 Phonics Core Program®.
They continue to use the program and see ongoing improvements (stay tuned for year 2 update ahead!).
The Challenge: Putting the science of reading into practice
The Fort Zumwalt School District in O'Fallon, Missouri began offering Language Essentials for Teachers of Reading and Spelling (LETRS®) training to teachers throughout the district's elementary schools in 2019. The goal: to provide in-depth training for teachers in the science of reading. Nearly 4000 educators have participated to date statewide in LETRs—270 of those teachers are in Fort Zumwalt School District. With teachers learning about the science of reading through LETRS, interest grew in implementing a systematic approach to teaching reading across the elementary schools. But they were struggling to find systematic, explicit, and easy-to-use materials to put knowledge into practice and teach their students.
Fort Zumwalt School District ELA curriculum coordinator Stephanie Sanker presented 95 Percent Group's 95 Phonics Core Program® as a systematic approach and invited the teachers' thoughts on it. Then in 2021, an opportunity to participate in a pilot to examine the impact of the 95 Phonics Core Program® on student literacy achievement was presented. Eight out of sixteen schools were randomly assigned to 95 Phonics Core Program.
We've never had a systematic and explicit way of teaching phonics within the 24 years that I've been teaching. We had our basal readers. We did guided reading, but the true teaching of phonics—I had never done that. I know that our kids had been lacking that skill, not only helping them decode but also to encode with their writing. So we were really, really hoping to find something that could help these kids. I feel like this program has really filled that need.
Marcia Biermann
---
second grade teacher
2021–2022 pilot results
The results from the initial study are in. In the efficacy study by LXD Research conducted from Fall 2021 to Spring 2022, students using 95 Phonics Core Program showed higher gains on Acadience Reading than the control group in all three grades. Results align with Evidence for ESSA's Level 1 criteria. Results include increased:
Reading improvement: Across all grades studied, there were more students reading on grade level and increased composite scores in 95 Percent Group classrooms versus comparison classrooms.
Lesson clarity: Observers reported that the lessons and lesson numbers were clear in 100% of the 95 Percent Group classrooms, as compared to 21% in the comparison classrooms.
Student engagement: Nearly all of 95 Percent Group classrooms had most of the students on task during the lesson (90%) compared to only 61% of the comparison classrooms.
Student independence: 95 Percent Group had 92% of classrooms where most of the students prepared without help for each lesson segment compared to 47% in the comparison classrooms.
According to the efficacy report by LXD Research, "Educators from this district continued to share stories with the research team after the first year of the study ended. They said that it was clear during summer school which students had received the 95PCP and which students had not. At the start of the year, teachers shared that they had never seen their students so prepared for the start of school. The student assessment data validated what the teachers observed firsthand in their own classrooms. The data show the first year of the 95PCP had a positive, significant impact on student achievement that extended past the summer and into the new school year."
Transforming literacy for students and teachers
Teacher participants in the first year "pilot" have talked about how the experience transformed their own learning and their students' learning. Second grade teacher Amanda Fowler shared her experience teaching with 95 Phonics Core Program:
"One example that comes to mind is vowel teams. I've never broken vowel teams apart in the depth I went with 95 Percent Group, which was phenomenal. I wouldn't have even thought to teach it in so many different layers. In the past I've always taught vowel teams, but have I spent that much time on it? No. So I learned a lot from that as well….One of my favorite things was the syllable types. I added this within my routine and at the end of day, we would do syllable types—kids were able to break apart 20 letter pseudo words in second grade because they were understanding the syllable types, and they were to be able to read it fluently…it made no sense but they could read it because they really started to understand syllable types and they understand pieces of the word they would have never understood before.
"I think the great part about 95 Percent Group is when it comes to the application piece—when the students are doing the transfer to text. The reason I think that's great is how it is slowly scaffolded for even your lower reading level kiddos who may not have fully grasped that skill yet. But since they've highlighted those words, they remember the skill….So I think one big Aha moment was when the kids who struggle a little bit were able to read the text and were able to talk about it.
Curriculum coordinator Stephanie Sanker addressed the common concern she hears from teachers new to the science of reading and structured literacy: students will get bored.
"I don't see kids getting bored—we pack a lot in. Even for our kids who are high readers, the program has really made a difference in their spelling and writing. It's not a program only meant for struggling readers—we see areas of improvement in kids at all levels of proficiency."
Game changer: Common routines for students and teachers
All the teachers we spoke with for this story pointed to the importance of common routines and shared language in the success they've seen. Second grade teacher Amanda Fowler shared:
"I know the way I'm going to teach is going to be completely different from my next door neighbor, not to fault anyone. It's just your belief. And when people are not all teaching the same scope and sequence, you're going to see gaps. And now this way, we know every teacher and student is getting the same instruction which is wonderful, because then you can truly recognize lagging skills, strengths, weaknesses, because you know what they've been exposed to, what practice looks like, what application looks like. You're able to see all those pieces, and every teacher has the ability to teach it the same way."
Teacher Marcia Biermann talked about the outcome of common routines that she observed with her second grade students.
"I can honestly tell you last year and this year, it is part of my kids' favorite time of the day. They love phonics and word study time. Because it is routine-oriented, when it's sound spelling mapping time, they know exactly what to do; when it's using your sound chips, they know exactly what to do; when it's finger stretching they know. I see them excited, up and moving, loving it. And when I say, 'Okay, it's time for phonics, and word study time,' to hear them be excited and cheering, that tells me it's working.
Stephanie Sanker shared the positive effect that 95 Percent Group's cohesive system had on students the following year by supporting consistent instruction across grades and tiers:
"When our students who had the 95 Percent Group program last year moved up to the next grade level this year, it was very easy for them to slip right back into the routines. They didn't have to spend as much time at the beginning of the year as they did last year learning the structures for the lesson."
Dr. Rachel Schechter of LXD Research shared, "We look forward to following students through their second year of the program implementation to see how years of growth build on each other to close achievement gaps."
Four tips for educators: Science of reading into practice
Anticipate and embrace the learning curve for time management: When asked about working in new ways with students, 2nd grade teacher Marcia Biermann pointed to the learning curve she experienced with time management. "Anything new takes a little bit longer for you to get used to in the teaching as well as for the kids learning something new. Being prepared ahead of time too, looking over and knowing what you're doing, and knowing what the key components are all make a difference in successful time management."
Give each other grace and build each other up: Amanda Fowler, 2nd Grade teacher, shared that for her it was important to let go of perfection and get more comfortable making mistakes and looking awkward. "I think as teachers, we like everything perfect. So giving yourself some grace helps, because it is important to understand the importance of having the manual and hitting those key components but you have to know, too, you're going to make mistakes, you're going to look awkward…What helped the most was talking to other people, feeling similar concerns. And knowing, once we get used to it, and continuing to put the time and effort into it, we will get it. And I think that's what really helped us grow versus cutting things out or nagging. You just have to give each other grace and build each other up and understand that there are reasons we're doing this."
Share your successes and your challenges: Fowler also emphasized the importance of creating safe and inviting spaces for teachers to talk with each other about what is working and why, and to explore together in a nonjudgmental process where they're struggling so they can learn from each other. "I think…sharing your successes is key. I know it's hard for teachers to share successes because you don't want to brag on what's working—but share those successes because sometimes a little bitty piece of change can make a huge difference in instructions. But also be willing to share when you're struggling. And districts, open up those conversation pieces, to say this is what I'm noticing versus I don't like it, I don't want to do it, or I can't."
Make the why clear: Fowler emphasized the necessity to make the why clear to teachers, especially for new teachers and new districts implementing the science of reading. She observes that if teachers aren't grounded in the why and are given a script, they're more apt to veer off but when they understand the importance of each component and why they're doing it, teachers can get fully on board. She broke it down for us: "I think people really need to understand the importance of each component and why it's laid out. But then it is also important to address the timing piece because one challenge that I did see with a lot of people had to do with time. I would hear 'I didn't have time for that so I didn't do dictation,' or "I didn't do transfer to text,' and I would respond, 'Wait, let's talk through the why. Why do we do that?…If you don't know why, you're not going to do it with fidelity. And if you don't do it with fidelity, we're going to run into the same gaps that we've had… It's essential to keep reminding people 'This is why we're doing this piece. This is why dictation is important. This is why transfer to text is important.' Even if you know the science of reading and you're thinking you're going through all of it, if you're skipping phonological awareness because you think it's silly, or you're skipping the transfer to text, those are core pieces that have to be hit on. Explaining to the teachers why we're doing that really will make a big difference."
Related resources
Year 2 research results are forthcoming. Stay tuned for more reporting on this district success! Are you interested in learning about how you can bring an effective and efficient structured literacy approach, grounded in the science of reading, to your school or district? Contact us today.