95 Percent Group Announces that 95 RAP, a Proven Solution for Tier 3 Reading Intervention, is Now Part of the One95 Literacy Platform
Reading Achievement Program supports teachers in providing intensive, individualized small group instruction to accelerate reading improvement for students with persistent reading difficulties, including dyslexia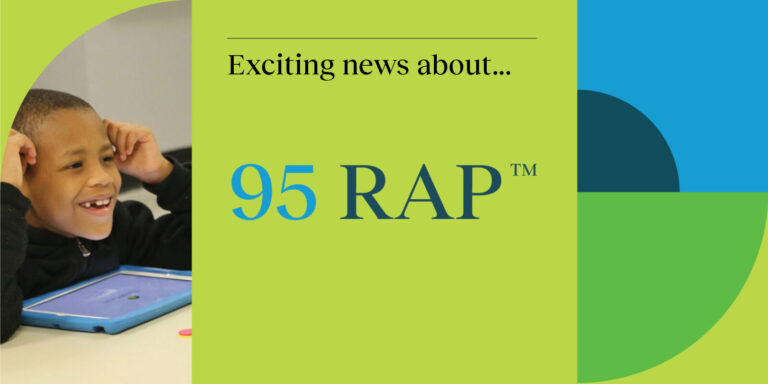 Reading Achievement Program supports teachers in providing intensive, individualized small group instruction to accelerate reading improvement for students with persistent reading difficulties, including dyslexia
Today 95 Percent Group LLC, the trusted source for proven literacy solutions, announced 95 RAP™ (Reading Achievement Program) is now part of the company's recently unveiled One95™ Literacy Platform™, a secure, efficient and connected access point for whole-class and intervention digital resources that are aligned with the science of reading and evidence-based. 95 RAP is a proven, Tier 3 digital learning platform designed to support teachers as they deliver targeted interventions to young learners with persistent reading difficulties, including dyslexia.
95 RAP provides an intensive, small group reading intervention that integrates a structured approach to instruction, smart technology and personalized teacher professional development. It is a fast-paced, easy-to-use solution for keeping students engaged and teachers informed with real-time data to personalize instruction.
"As the recent National Assessment of Educational Progress scores show, our country has thousands of students who have not built the foundational literacy skills necessary for success in school, careers and life—particularly at risk are young learners with persistent reading challenges, such as dyslexia," said Brad Lindaas, CEO, 95 Percent Group. "95 RAP provides teachers with a proven, digital program and supporting professional learning to provide readers who require additional intervention with the individualized support they need to become proficient."
The program is designed for teachers of students in need of intensive reading intervention: reading interventionists, literacy specialists, special education teachers, speech language pathologists and tutors. 95 RAP lessons are delivered for 40 minutes, four to five days a week. While the 95 RAP platform includes word lists, fluency lists and decodable texts, instruction is delivered by the teacher to each individual student in groups of four. The platform's digital dashboards and reports allow teachers, principals and district leaders to monitor implementation and student progress throughout the school year.
To support teachers who are using 95 RAP, the program offers professional learning that combines self-paced, online learning with interactive, facilitated review and practice, followed by personalized coaching and implementation support. Teachers training on 95 RAP learn the how and why of teaching students to read while being provided with a technology tool that puts the content and data for individualizing instruction at their fingertips. This unique combination equips them to meet the needs of any student struggling with foundational skills.
95 RAP has helped thousands of students in nearly 300 districts around the country overcome reading challenges. Teachers who have used the program quickly recognize its efficacy. It was originally developed by Hill Learning Center, an education nonprofit in Durham, North Carolina. 95 Percent Group acquired the program from Hill Learning Center earlier this year.
An elementary special education teacher said, "This program, when given regularly and with fidelity, makes a huge difference for readers because it allows us to identify and address skill gaps; intervention time is more effective than a program where everything is addressed. The gains that I have seen with my students after implementation of this program have been tremendous, oftentimes more gains in a few months than they have experienced in many years of other intervention."
95 RAP is eligible for numerous funding programs, including the U.S. Department of Education's SPED, Early Intervention SPED Funds, SPED Disproportionated Identification Funds, Title 1 and ESSER funds.
About 95 Percent Group
95 Percent Group is an education company whose mission is to build on science to empower teachers—supplying the knowledge, resources and support they need—to develop strong readers. Using an approach that is based in structured literacy, the company's One95 Literacy Ecosystem integrates professional learning and evidence-based literacy products into one cohesive system that supports consistent instructional routines across tiers and is proven and trusted to help students close skill gaps and read fluently. 95 Percent Group is also committed to advancing research, best practices, and thought leadership on the science of reading more broadly.
For additional information on 95 Percent Group, visit: https://www.95percentgroup.com.