Most popular children's book in every state
What are parents' go-to stories for young children? Our new report determines the most popular children's book in every state. Find out what they are!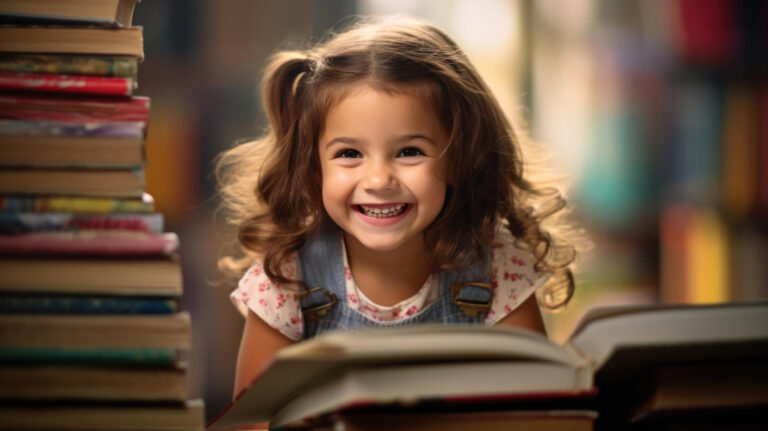 A key part of the day for many children is right before bedtime. It's that special time when their parents pull out books and read stories of fantastical adventures to lull them into a restful, dream-filled sleep.
But which children's books are the most go-to for families? We analyzed more than 1,500 Google searches of children's book titles to determine the most popular book in every state and surveyed parents of children under 10 years old to ask them about their children's reading habits.
What is the most popular children's book in each state?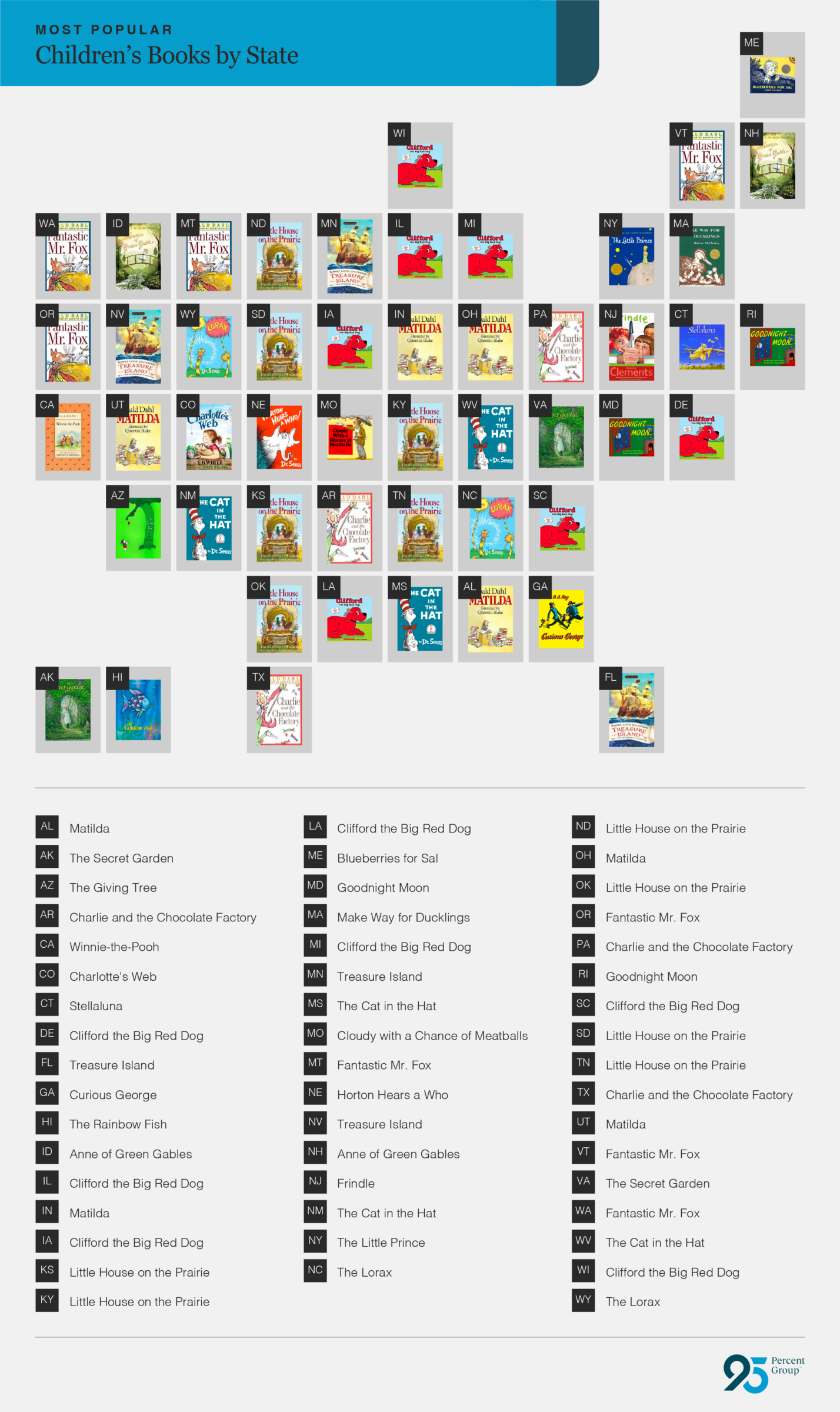 One book series many parents turn to is "Clifford the Big Red Dog" by Norman Bridwell. It could be because the giant pup is top of mind after the beloved book character was featured in its own movie in 2021, or it could just be a sense of nostalgia since Clifford's been entertaining kids since 1963. Either way, "Clifford the Big Red Dog" was the most-searched children's book in seven states, four of which are in the Midwest: Illinois, Michigan, Iowa, and Wisconsin.
Several states were drawn to books similar to their landscape and environment. Both of the Dakotas along with Oklahoma, Tennessee, Kentucky, and Kansas love "Little House on the Prairie" by Laura Ingalls Wilder. Maine, which is known for its delicious lowbush blueberries, is drawn to the classic book about the fruit: "Blueberries for Sal" by Robert McCloskey.
In Florida, families don't need to go to the Florida Keys to experience an island adventure. The most searched book there is "Treasure Island!" Meanwhile, in Hawaii where tropical fish are plentiful, children are unsurprisingly drawn to "The Rainbow Fish."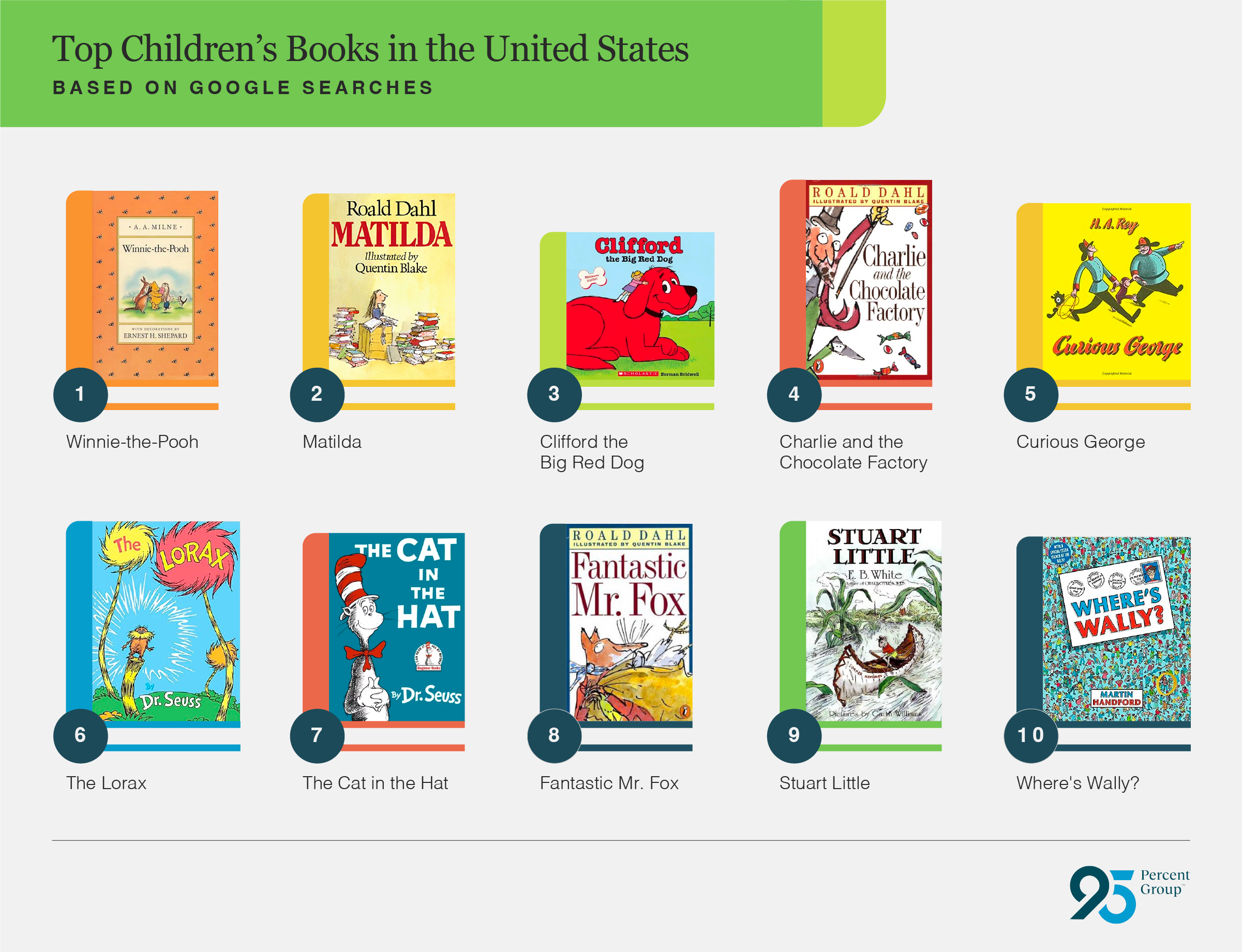 While Dr. Seuss is well-known for his rhyming children's books, his books weren't the top-searched in the nation. The top 10 books people are searching for the most are A.A. Milne's "Winnie-the-Pooh," followed by Roald Dahl's "Matilda," and "Clifford the Big Red Dog."
Two Roald Dahl books actually made it into the top 10. "Charlie and the Chocolate Factory" was the fourth most popular children's book. "Curious George" by Margret Rey and H. A. Rey rounded out the top five books.
Top 10 children's book authors
A couple of Dr. Seuss' books made it in the top 10: "The Lorax" and "The Cat in the Hat." However, Dr. Seuss still reigns as one of the top children's book authors, at least according to parents of kids in elementary school or younger.
In a survey of nearly 1,000 parents, 61 percent noted Dr. Seuss as their favorite children's author. Other favorite authors include Roald Dahl, Eric Carle, Shel Silverstein, and C.S. Lewis.
Survey reveals parents' view on reading
Parents of kids under 10 overwhelmingly recognize the importance of reading to their children. 97 percent of parents surveyed say they read books to their little ones, and more than half read to their children every day. About one in three read to them every few days, and one in 10 read to their children weekly.
Nearly 90 percent of parents incorporate reading into their child's routine, and 85 percent read to their children at bedtime. This time together is important, especially as children are learning, and sometimes struggling to learn how to read. One in four parents said their child has struggled with reading and 15 percent of those are currently struggling to read in 2023. Some parents, however, may not even realize that their child is struggling.  According to NAEP scores, 37% of students scored below basic in 4th grade reading in 2022.
Nearly one in five parents do not think their child is learning how to read well in school, a pivotal place where many learn lifelong skills through vocabulary and reading comprehension lessons and practice. Students must be taught to build and fortify the foundational and advanced skills they need to grow as independent readers. Their love of reading will follow.
One key way to teach children how to read is the science of reading. The science of reading is a research-backed teaching method based on decades of studies that helps children master reading using a number of strategies including phonics lessons. However, 83 percent of parents have not heard of this method.
Whether children are being read to, or reading all on their own, reading is an essential part of the human experience. Whether children love the timeless books of Dr. Seuss or new popular books such as "Dragons Love Tacos" and "The Crayons Go Back to School," books are key to helping children grow in their reading journey.
Methodology
For this report, we analyzed Google search volume of 1,587 related to children's book titles over the period of July 2021 to July 2023.
In August 2023, we also surveyed 968 parents of children 10 years or younger to learn more about their reading habits. We focused on parents of children 10 years or younger since 10 is the age most children are in their final year of elementary school. Respondents ranged in age from 20 to 56 with an average age of 34. 52 percent were women, 47 percent were men, and 1 percent were non-binary.
For media inquiries, please contact media@digitalthirdcoast.net.
Fair use
When using this data and research, please attribute by linking to this study and citing 95 Percent Group