News: Dysart district closes academic gaps
This article originally appeared in the Daily Independent online, written by the news outlet's reporter Jennifer Jimenez. It covers a school partner's experience with programs from the One95™ Literacy Ecosystem.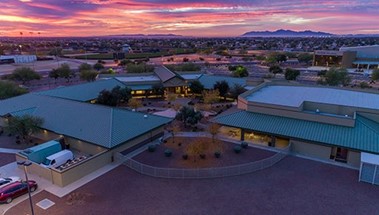 Dysart Unified School District is using 95 Percent Group programs
Read on for an excerpt from the original article. To access the full article, see it here.
Data snapshot:
48% to 64% of students were below benchmarks.
After the implementation, that number was reduced 23% to 44%, depending on the year.
Dysart Unified School District continues to work on closing learning gaps and is making progress.
Several years ago, the district governing board approved the implementation of 95 Percent Group's literacy programs, which are evidence-based, instructional learning products, according to the website.
Shelley Isai, assistant superintendent for education services, said the program is clinically researched and based on standards and skills both with traditional and direct instruction as a scripted program.
She said this ensures continuity of instruction so that it is applied at all campuses using this program. Secondly the teachers review the plans and use the research-based way to explain it to students to understand.
Isai said there are student manipulatives involved and watching students use this program individuals would be moving around chips to substitute different letters. Helping the students to see, say and feel the word will help the learning process.
Isai said students learn phonological awareness, how to read sounds, six syllable types, onset rhymes—which are standards on state testing—and 95 Percent Group hit them all.
She said this program allows them to use a screener and dig down to where the difficulty is whether it is with letter sounds or blends and gives specific data on kids, which enables teachers to make intelligent decisions based on data when forming small groups. Then every three weeks students are reassessed to where they each fall and are moved based on the skills.
"In 2021-22 we noticed our kids coming in with big gaps because when you do kindergarten and first online you only hope for great instruction and all of my kids will be attentive. And we did phonics-based instruction to make up the deficit," Isai said…