Capital School District Partners with 95 Percent Group to Accelerate K‐1 Reading Performance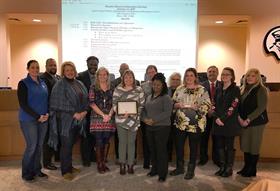 Dover, DE – Capital School District recently received the R.E.A.D. Award from their literacy
partner, 95 Percent Group Inc, recognizing significant reading improvement for K-1 students during the 2016-17 school year. The yearly honor is given to schools or districts that demonstrate instructional excellence and dedication, in using 95 Percent Group's processes and products, to support readers who struggle.
"The 95 Percent Group implementation began as a district initiative to improve the knowledge and skills of district instructional leaders, school level coaches, reading interventionists, K-1 special educators, and K-1 classroom teachers," said Pam Herrera, Director of Elementary Instruction.
Capital School District saw outstanding EOY 2016-2017 results. The Kindergarten DIBELS Next
composite scores showed that 84% of students met Benchmark, a 21% increase over the prior year.  Also, there was a 40% increase in the number of students meeting Benchmark from the beginning to the end of the school year.
Judie Caroleo, 95 Percent Group's Director of Training and Development, presented the R.E.A.D. Award to the Capital School District during a recent School Board meeting.
The reading growth in the district exemplifies their commitment to using data-based decision making to improve outcomes for all students. From the district office to the building level administrators, literacy coaches and the teachers who are providing the instruction, everyone in the Capital School District works tirelessly to meet student needs.
Judie Caroleo
---
95 Percent Group's Director of Training and Development