Alabama state DOE recommends 95 Phonics Core Program as English/Language Arts supplemental material for grades K-3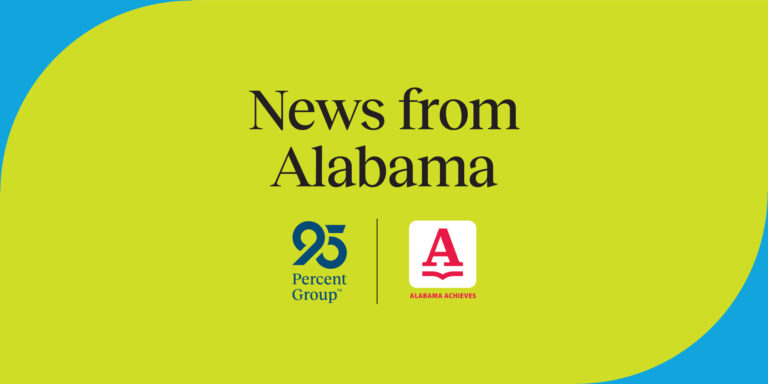 Joins growing number of states approving 95 Percent Group's programs and professional development for grounding in the science of reading
Lincolnshire, Ill. – April 11, 2023 – Today 95 Percent Group LLC, the trusted source for comprehensive, proven literacy solutions, announced the Alabama State Department of Education approved its 95 Phonics Core Program® Classroom Kit as recommended English/Language Arts Supplemental Materials for Grades K-3.  With current national momentum for literacy instruction grounded in the science of reading, Alabama joins a growing number of states who are reviewing and recommending materials to support this instructional approach.
In addition to Alabama, during the past two years, 95 Percent Group's instructional solutions and/or professional development were recommended by boards of education in Arizona, Arkansas, Colorado , Maryland, New Mexico, Oklahoma and Utah. All state review teams required rigorous independent study designs and evidence of program efficacy. Among the research state panels reviewed was an independent study conducted by Learning Experience Design Research that demonstrated the effectiveness of using 95 Phonics Core Program with either the 95 Phonological Awareness Intervention or the 95 Phonics Intervention.
"Leveraging independent research to ensure that our programs are effective in helping learners build reading skills is at the core of our work at 95 Percent Group," said Brad Lindaas, CEO. "It is exciting to extend our impact in Alabama and support the state's work to advance what is best for children: using the science of reading to accelerate student literacy skill development."
Alabama education leaders initiated this recent rigorous review of evidence-based instructional materials for young learners in support of the Alabama Reading Initiative (ARI). Passed by the state legislature in 2019, ARI is leveraging reading instruction grounded in the science of reading to significantly improve reading instruction and ultimately achieve the ambitious goal of 100 percent of all state students reading on grade level by the end of third grade.
The 95 Phonics Core Program is a whole-class phonics curriculum designed to address and prevent reading gaps for all students. 95 Phonics Core adds an explicit phonics strand to the daily reading block to ensure that all K-3 students receive consistent evidence-based and research-aligned phonics instruction to improve outcomes. There are multiple studies that demonstrate its effectiveness.
Featured on its recently reimagined website, 95 Percent Group's One95 literacy ecosystem is designed to help teachers use structured literacy to close the reading skills gap with a cohesive suite of evidence-based tools for Tier 1 and 2 reading instruction. Each product connects to every other product, allowing educators to add elements to their curriculum to meet the needs of all students, regardless of where they are in building their foundational reading skills.
About 95 Percent Group
95 Percent Group is an education company whose mission is to build on science to empower teachers—supplying the knowledge, resources, and support they need—to develop strong readers. Using an approach that is based in structured literacy, the company's One95 literacy ecosystem integrates professional learning and evidence-based literacy products into one cohesive system that supports consistent instructional routines across tiers and is proven and trusted to help students close skill gaps and read fluently. 95 Percent Group is also committed to advancing research, best practices, and thought leadership on the science of reading more broadly.
For additional information on 95 Percent Group, visit: https://www.95percentgroup.com.
About LXD Research
LXD Research is an independent evaluation, research, and consulting division within Charles River Media Group focusing on educational programs. We design rigorous research studies, multifaceted data analytic reporting, and dynamic content to disseminate insights. Visit www.LXDResearch.com.