Fairfax School District Earns R.E.A.D. Award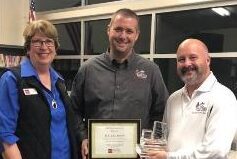 Bakersfield, CA – Susan Hall, Ed. D., Co-Founder, and CEO, 95 Percent Group recently presented Zephyr Lane Elementary  School with the company's annual R.E.A.D. Award recognizing the school's dedication to achieving reading excellence.  This distinction is given to schools or districts that demonstrate instructional excellence and dedication, through the use of 95 Percent Group's processes and products, to support struggling readers.
Dr. Hall acknowledged Zephyr Lane's commitment at every level to implement a comprehensive intervention program that prepared teachers to effectively identify and address skill deficits and significantly improve student reading achievement.
The award was accepted by Fairfax School District Superintendent Michael Coleman and former Zephyr Lane Principal Charley Clark, who now serves as the district's Director of Programs.
95 Percent Group Client Manager and Consultant Kim Dale, who worked most closely with Zephyr Lane during their initial implementation, shared the school's success story.
"Three years ago, a small group Zephyr Lane administrators and teachers attended a 95 Percent Group workshop.  At this training, they heard about a program that could show them how to teach kids to read in an explicit, systematic way. This group of educators went back to their school with a renewed passion and were dedicated to making it happen on their campus.  In just a few months, they secured funding, brought 95 Percent Group to their school, and started preparing teachers to effectively impact reading achievement," remarked Dale.